CD61 - I Regret to Inform You by Lee Anderson
2 years ago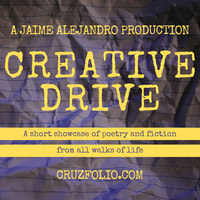 Hello all!
On this special episode of Creative Drive we are thrilled to bring you a short piece by Lee Anderson!
Warning: This tale features violence and language.
ABOUT THE AUTHOR: Lee has written short stories and essays for a multitude of small and large press publications, including "Fiction International" and "The Miami Herald." He also wrote and staged two one-act plays in New York City, "Supper's Ready" and "Little America." He's the author of the shocking horror novel "What Happened at Sisters Creek" and the critically-acclaimed short story collection "Dark Lords of the Trailer Park. Lee lives in Brooklyn, New York with his wife and calico.
SUPPORT THE AUTHOR HERE: Instagram: https://www.instagram.com/lee.anderson.writes/ Twitter: https://twitter.com/theleeanderson Website: https://www.palmcirclepress.net
--
Read and Produced by J. Alejandro
Creative Drive is an international podcast produced by J. Alejandro to bring visibility to poets and writers from all walks of life. If you have a sec, please SUBSCRIBE AND REVIEW!