CD63 - Power Outage Musing Number One (and Zero) | A poem by Jaime Alejandro
2 years ago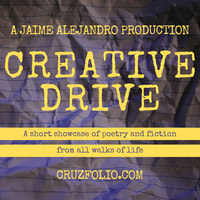 Hey friends,
Creative Drive is back in action! I wanted to share some music and poetry experiments I have been working on recently. This is the first of a few more to come, and I hope I can keep sharing original work every now and then on the podcast. This is a reading of a poem with original music, from my debut poetry collection, Flame to the Watering Hole. I wrote it when I worked at the cemetery. Looking forward to reading your work! Make art. Much love,
j
Produced by J. Alejandro
Creative Drive is an international podcast produced by J. Alejandro to bring visibility to poets and writers from all walks of life. If you have a sec, please SUBSCRIBE AND REVIEW!