CD70 | Poetry by Sunday T. Saheed
2 years ago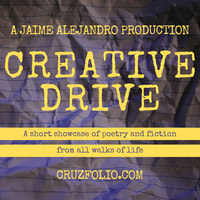 Hi there,
Today we feature the work of Sunday T. Saheed!
Sunday T. Saheed is a Nigerian writer and the Chairman of Ogun Hilltop Creative Arts Foundation. His works have appeared in Kalahari Review, Applied Worldwide, and Open Leaf Press Review. Sunday T. Saheed was the 1st runner-up for the Nigeria Prize for Teen Authors 2021. He was also one of the 84 finalists for the WSICE (Wole Soyinka International Cultural Exchange) 2018.
"I write because writing is a medium by which all my pains are suppressed. Art holds healing and mirth with it. I'll advise people who doubt their writing to never do so, again. Give your writing a voice, let the voice be what will speak for you." -Sunday T. Saheed
Thanks for sharing your work with us!
--
Read and Produced by Jaime Alejandro
Creative Drive is an international podcast produced by Jaime Alejandro to bring visibility to poets and writers from all walks of life. If you have a sec, please SUBSCRIBE AND REVIEW!